By
AllStars
We have had a couple of "Jellybeans" music lessons so far this term and are really excited to be learning to play the recorder.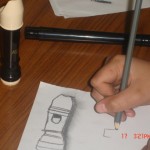 Recently we used charcoal pencils to sketch some aspects of our recorders. We tried to experiment by pressing softly and more firmly, using the side of the pencil and the tip of the pencil as well.
Here are our finished sketches …..
wii"ve Got The Music – Recorder Sketchings on PhotoPeach
By
AllStars
We've been studying
 the human body
 keeping fit and active
 healthy lifestyles
so we thought it would be fun to make some skeleton artworks.
What you need:
Water colour paints
A4 white paper
Black art paper (or paint your own like we did!)
Paintbrushes
What to do:
Using the watercolours, paint stripes over the whole A4  paper
Paint the bigger paper black
Wait for the papers to dry
Photocopy some body parts
Carefully trace the body part you want onto the stripy paper
Cut out and glue onto the black paper
Hang or display in your room!
Meta