By
AllStars
Here are some of our "Circle of Viewpoints" thoughts about the NIPS XI and winning: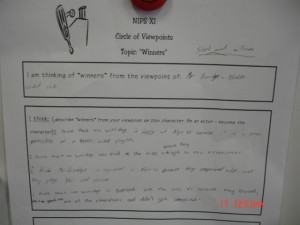 By
AllStars
NIPS XI  by Ruth Starke is the title of the text we are reading in Reading Groups. It is a great story about about a boy called Lan who forms a cricket team to play at Multicultural Day at his school. It follows his adventures as he recruits the players, finds a coach, learns the rules and starts to play the game of cricket.
One of the themes we are exploring is the theme of "Winning". We thought out loud about who were winners in this story:
Now we are using "Circle of Viewpoints" to help us think about how different characters in the story see winning. Its quite interesting to talk about how different people have a range of ideas on what winning is.
Meta