By
AllStars
AllStars are really busy adding the finishing touches to their Personal Project presentations.
This is what we have done so far:
Identified an area of interest to us individually
Posed some questions that we have on the topic
Chose a question or topic to investigate
Came up with a "Big Question" to be answered through investigation
Thought up some smaller questions that would contribute knowledge to help us answer the "Big Question"
Used all available resources to explore and investigate the answers to the small questions
Thought and syntheseised the information in an attempt to answer the "Big Question"
Prepared a presentation using either Glogster, GoAnimate, Dipity, or Xtranormal to share our "Big Questions" and answers.
Here are some photos to show what we have been doing!
We hope to post our presentations very soon
By
AllStars
While working on our Personal Projects we have been talking about copyright and plagiarism.
Mrs P showed us a diagram which helps us remember to make our work our own: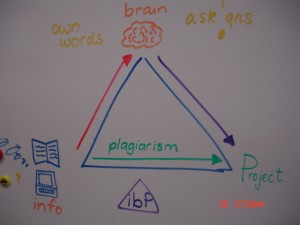 In the bottom left is the information we read and use to inform us about our topic.
At the top is our brain – we have to use our brain to think about the information, to ask more questions and to try and synthesise the information + our prior knowledge + background info. This will help us answer our small questions.
We are all trying hard to use this triangle to help us use the information we find!
By
AllStars
We have worked long and hard to come up with our own questions for our individual projects for this term. Everyone will be researching a topic that they have identified as being of interest to them.
We used the Thinking Routine: "Think, Puzzle, Explore" to help us narrow down what we want to investigate. Some of us used word webs, concepts maps or lists and columns to work out a possible topic to study.
Well, we have come up with our questions now – have a look at them – at let us know what you think!
Meta