By
AllStars

I see ….
colours

nature: plants, birds, creatures

patterns

structures

shiny – tiles, plates, glass, metals, copper

movement

illusions

reflections
I think ….
excitement

strange

colourful

alive/living

stands out

theatrical

joyful

3D

unique

celebration

weird

very different

amazing
I wonder ……
how/where does Gaudi get his ideas?

why did Gaudi  become an architect?

how difficult was it to build the buildings?

how did he know his designs would work?

why does Gaudi want to be different?

what or who inspired him?

why and how do his buildings look like they are moving?

Image: 'casa batllo'
http://www.flickr.com/photos/70928835@N00/336499889
By
AllStars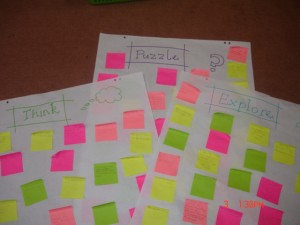 Today we used a different Visible Thinking routine to kick start our individual Study Projects.
Our overall topic is the Ocean, but everyone is interested in different subjects and areas within this big topic.
The thinking routine we used was called:
First we had to think of facts we knew (or thought we knew) about oceans.
Then we had to come up with something that puzzled us  or something we wondered about oceans.
Lastly we identified some areas of interest that we might explore as a class.
We used lots of post-it notes (MrsP should NOT buy cheapo ones from the $2 Shop
– cos they don't stick) but came up with lots of great ideas that we can follow through with in class, or in our individual Study Project.
BubbleShare: Share photos – Powered by BubbleShare

Meta