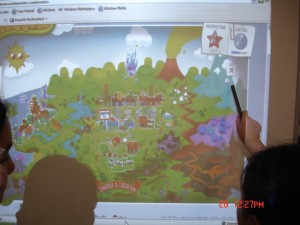 Classes at our school have been using Moshi Monsters each morning to build class and school community ties. Each class has their own monster, and spend part of each day solving puzzles and testing our general knowledge to win rox for our Moshi Monster. We use the rox to buy food and belongings for our Moshi Monster.
We have also been using  Moshi Island to explore settings in narratives. The island has many places that would make fantastic settings for exciting stories. There is the volcano, the port, the haunted house, the snowy mountains and the swamp.
In small groups, we mind mapped our ideas for characters and problems that would appropriate for each of these settings:
We also had fun dsigning and making our own huge Moshi Monsters to decorate our classroom – here they are hanging in our room. What do you think of them???
Which Monsters do you like the best – the friendly ones or the scary ones?