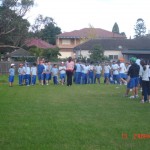 On a beautiful Friday afternoon, the annual cross country running carnival got underway today.
We spent the afternoon in wonderful sunshine, enjoying the effort and stamina of students across Stages 2 and 3 as they ran many, many laps of the oval and grassy playground.
There were many successes – students competing for the first (or last) time, students finishing their race, students completing more laps than they had finished before, and some students qualifying for the next, inter-school competition.
Congratulations to everyone who "had a go".