We have been using some drama techniques to help us in reading, and last week we tried one to help us in our writing.
We had to write about a strange looking picture – it was dark and hard to work out what it was so we all discussed what we could see, and what it could mean. There were lots of different ideas and thoughts; some people thought it looked like a statue, or a monument, or a memorial or a chimney from the brick pits, or a mine, or even a statue from Easter Island.
Next we were grouped into groups of 4 and were asked to talk about the ideas we had about a story based on the photograph. We talked about the characters and the situation; what is happening and why is it happening?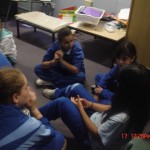 Then we worked together to make a "photograph" or a still-life tableau showing the moment of conflict in our story.
Lastly people from other groups  had to "tap in" to individuals in the photograph and find out what a character from the photo was doing/thinking/feeling.
It was interesting to see and hear the different ideas each group had about the same picture. We think that the talking, thinking, doing and acting out helped some of us to write much better this week.